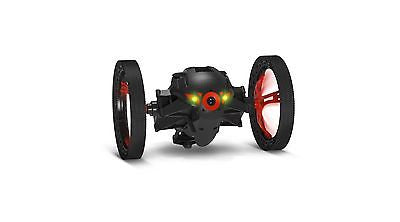 Parrot Jumping Sumo, Minidrones, Black
Overview
Piloted via Wi-Fi 2.4 or 5GHz with a Smartphone or a tablet, Parrot Jumping Sumo is a new genre of connected robot. Half robot, half insect, it is equipped with a gyroscope and an accelerometer, which provides fool-proof agility and intuitive piloting. It can roll, turn 90 degrees with speed and astonishing precision - meaning no obstacle is too challenging - and also perform spectacular jumps (up to 80 cm) always landing on its "wheels"! With an embedded camera, its acrobatic and fast-paced movements are streamed onto the screen of the controlling Smartphone or tablet.
Jump and Roll!
Parrot Jumping Sumo is a responsive rover with strong personality which rolls, rushes, zigzags, circles, takes turns at 90° and which, in a flash, jumps up to 80cm in height and length! Thanks to its embedded camera, it immerses you in the center of Parrot MiniDrones
Piloting Mode
Jumping Sumo offers 3 piloting mode: Auto-Balance, Kicker and Jumper. In this third one, he leaps vertically and horizontally up to 80 cm / 3 ft and always land back on the wheels, thanks to a high-speed processor and gyroscope.
2 Different Experiences with Adjustable Wheels
The wheels open for greater stability in high-speed and re-tract in 'compact' mode to enhance agility and drive through narrow areas.
Make Your Jumping Sumo Dance!
A 'road plan' enables you to program a sequence of actions. When you access the application, the itinerary appears amongst the pre-defined movements of your Jumping Sumo.
Parrot Cloud
Connect to Parrot Cloud to share your stats with other pilots. Keep track of all your sessions and share your photos, videos and navigation data with other members of the Parrot Cloud. Connect to share instantly to YouTube or Facebook. Join Pilot Academy with over 150,000 pilots registered. Free backup of your sessions and acrobatics data.
Application
App Free piloting app compatible with smartphones and tablets running on iOS, Android, and from September 2014 onwards on Windows 8.1 and Windows Phone 8.1.
Connectivity
Generates its own WiFi (AC) 2.4 or 5 Ghz connection
Compatible Devices
Android: Bluetooth Low Energy devices running Android 4.3 or later
iOS: Compatible with Bluetooth version 4 iOS devices running iOS7.1 or later (iPhone 4S, iPhone 5, iPhone 5C, iPhone 5S, iPad 3rd Gen, iPad with Retina, iPad Mini, iPad Air, iPod Touch 5th Gen)
Range
Up to 50 meters in free-field conditions
Camera
Wide angle: the streaming video is transmitted to the smartphone or tablet screen Resolution: 640 x 480 px, 15 frames per second
Battery
Lithium-Polymer and removable
Lasts up to 20 minutes and charges in 1 hour
Speed
Rolls up to 2m/s
Sounds
Loudspeaker to produce sounds depending on actions
LED
Flashing LEDs indicate your Jumping Sumo's status
Dimensions
Large wheels : 7.28 x 5.90 x 4.33 inches
Tightened wheels : 5.63 x 5.90 x 4.33 inches
Weight
≈ 6.35 oz
Kit Contents
1 Jumping Sumo
1 micro-USB cradle
3 stickers
2 rubber pads
battery
1 quick start guide
OS
Operates under Linux. Free SDK for coders.