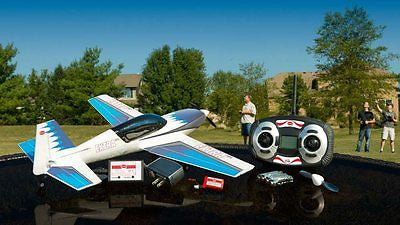 Extra 300 EP RTF Park Flyer
TECH NOTES
     This is the electric powered, 2.4GHz radio controlled, ready to fly,      
                          Cox Extra 300 Park Flyer.                            
                    For flyers 14 years of age and older.                      
FEATURES: Construction: Foam, FlightFlex flexes on impact to help absorb crash 
            energy and protect the electronics inside. Take a sec to           
            straighten it out...and you're good to go again.                   
          Wing: One-piece, fastens to bottom of fuselage                       
          Aileron Control: Single servo                                        
          Radio: 2.4GHz with low and high rate throw control, elevator, rudder 
            and aileron trim                                                   
          Motor: Brushed                                                       
          Battery: 2S 7.4V 250mAh LiPo, with balance connector                 
          Battery Charger: 2S balancing type with AC power supply              
          SafeProp: A nose-in crash usually means damage, even it's only to    
            to the prop. But SafeProp helps to prevent it.  Safeprop literally 
            pops off on impact, protecting itself and the rest of the plane    
            And what's even nicer: you can pop it right back on again and be   
            back in the air in seconds.                                        
          Warranty: This kit is guaranteed to be free from defects in both     
            material and workmanship at the date of purchase. This warranty    
            does not cover component parts damaged by use or modification.     
INCLUDES: Cox Extra 300 Park Flyer with 2.4GHz Radio System, LiPo Battery,     
            Charger with AC Power Supply, Prop, Instruction Manual and four    
            AA Batteries                                                       
SPECS:    Wingspan: 20 in (508 mm)                                             
          Weight: 3.35 oz (94 g)                                            
---
We Also Recommend