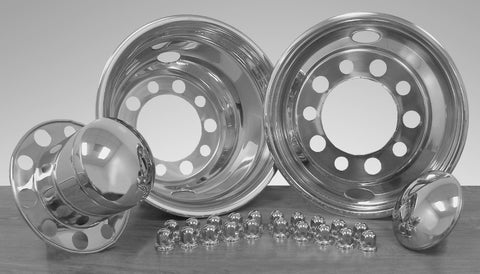 22.5" x 7.5" Under Lug Design Simulator Set 10 Lugs, 2 Hand Holes
22.5" x 7.5" Under Lug Design Simulator Set 10 Lugs, 2 Hand Holes
Fits the following dual rear wheel vehicles:
22.5" x 7.5"
2 Hand Holes/Air Holes and 10 Lug Nuts
Rim #27403
One set includes:
2 Front Liners/Dishes with Pop-off Hub Cover
2 Rear Liners/Dishes
2 Rear Hub Covers
40 Lug Nut Covers (please specify size when ordering)
Note: Does not work on wheels with square head rear studs.
These are 304-Grade Stainless Steel.
Each order contains complete set for 4 wheels. Two boxes, one for fronts and one for rears.
OVERSIZED SHIPMENT – Dimensional Weight Applies
SOLD ONLY IN FULL SETS
5836-225
---
We Also Recommend