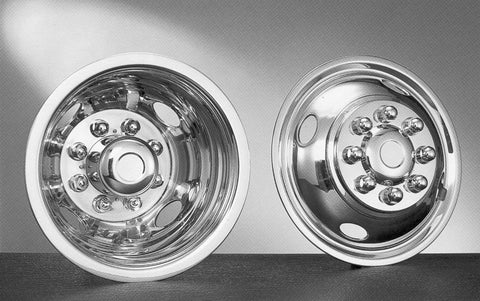 16" x 6" Snap-On Simulator Set 8 Lugs, 4 Hand Holes
16" x 6" Snap-On Simulator Set 8 Lugs, 4 Hand Holes
Fits the following dual rear wheel vehicles:
1980 – 2000 GM (old body style) & Ford Trucks
1980 – 1998 Dodge Trucks (old body style)
16" x 6", 4 Hand Holes/Air Holes and 8 Lug Nuts
This Universal, Snap-On Design simply snaps on to your steel rim.
Application applies to original equipment manufacturer's standard production wheels only.
One set includes:
2 Front Liners/Dishes (with pop-out hub covers)
2 Rear Liners/Dishes
The front liners have a pop-out hub cover for manual lock-out access on 4-wheel drive vehicles.
These are 304-Grade Stainless Steel. You just need soap and water to clean them up!
Picture shows 1/2 set, 1 front & 1 rear. Each box contains complete set for 4 wheels.
SOLD ONLY IN FULL SETS
5855-160GFD
---
We Also Recommend